THE VOLGA-DON WATERWAY
The part of the river Don 313 km long from the Tsimljansky hydrounit to the mouth is called the Lower Don. On the Three hydrounits with single locks operate on the Lower Don, they are: the Nikolaevsky (2931 km), the Konstantinovsky (2974 km) and the Kochetovsky (3005 km) ones.
The river Don pours in the Taganrogsky gulf of the Azovskoe Sea. The river forms delta in the esturial part with many branches and small channels. The basic ship route leads through the Peschanoe channel. The two navigable feeders pour in the Don lower the Tsimljansky hydrounit - the river Severski Donets on the right for 2997 km and the river Manych on the left for 3085 km.
The Volga-Don waterway is a large traffic artery for transportations of passengers and cargoes (the most important are lumber, coal, bread and mineral-building cargoes). Export-import transportations on mixed river-sea-going ships are also carried out through this waterway. Waters of the channel, of water storage basins and of the river Don are used for water-power engineering, irrigation and watering of agricultural grounds, as well as for fish farming.
Port Rostov-on-Don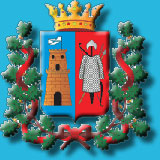 The port Rostov-on-Don is situated in the esturial part of the Nakhichevan channels within the limits of Rostov-on-Don. The zone of operational activity of the port is spread along the river Don from the quay Bagaevskaya (3071,1 km) to the mooring Kumzhensky (3148,9 km) and along the river Manych.
The port Rostov-on-Don handles vessels with mineral-building cargoes, lumber, containers and other cargoes, and organizes the local transportation of cargoes by the port fleet, the reloading works on the moorings of industrial enterprises by the port means, the service of the customer base of water transport, passenger transportations.
There are JSC УDoninturflotФ and three cargo districts in the port. All cargo terminals are motorized. There are traffic control services in cargo districts. JSC "Doninturflot" possesses passenger moorings that are situated on 3136,0 km at the right bank. They are equipped with a vertical wall 260 m. long. The ground is the sand. The riverside station is situated near the moorage wall.
The port Rostov-on-Don

Navigational chart of depths, around the Rostov river port

Diagrammatic longitudinal a profile of the Volga-Don waterway around Rostov-on-Don