The Volga-Baltic waterway is a link of the uniform deep water system of the European part of the Russian Federation, connecting pools of the Baltic Sea and the river Volga. It was opened in June, 1964. It includes consistently the river Neva, the Ladoga Lake, the river Svir, the Onega Lake and the Volga-Baltic channel. The full extent of the Volga-Baltic waterway (from the bridge of Lieutenant Schmidt on the river Neva to an input in Rybinsk water storage basin) is 857 km.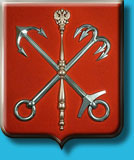 There are three ports on the river Neva:
- JSC "St.-Petersburg river port";
- JSC "Passenger port";
- JSC "Leningrad river port".
The JSC "St.-Petersburg river port" is the largest. It is well motorized and possesses moorings and raids for vessels of all types.

There are moorings and places of loading for vessels transporting mineral-building cargoes and lumber on the Neva. Raids for vessels consists are well-equipped in districts of big communities, wickets and important cargo terminals.